Kids
We have also made a new arrangement for families together. TAKE COVER!!! A defense adventure for school children.
Also curious about the story behind the city walls and the towers of Zutphen? Do you ever wonder who the people were who ensured that Zutphen was well protected against the enemies? Are you looking for a fun activity for a group of adults and children? Would you like to know more about Zutphen and also want to eat well?
Then the Find cover package is a fun activity for you. The package is offered to you by the city guides Zutphen and the Stedelijk Museum Zutphen.
Participants in this package get a guided tour through the old city center of Zutphen. A city guide tells you all about the defenses that protected the city.
But first the children in the Stedelijk Museum Zutphen are introduced to Everhard, Otto, Maurits and Menno. These 4 men played an important role in the defense and protection of Zutphen. With a treasure book, they playfully learn more about the origin of Zutphen. The adults present can of course help and learn something.
This package is suitable for groups consisting of adults and children from 6 to 12 years old, such as families, family days, grandparents.
Costs are €10.00* per person. Reservations for groups of 4 to max. 20 people can be made via this site.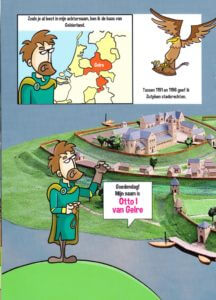 A special family programme
Are you a real sleuth?
2 pm                The Cambrinus City Brewery welcomes you with coffee, tea of a soft drink
2.30 pm           Guided city walk with experienced city guide
3.15 pm           The search in and around the Church of St Walburgis starts
Charges: € 10,00* p.p.  
*) booking fee €6,00 per group
Different prices apply for schools. Please contact us for this.